We believe children become happy, confident writers with the right writing tools and that when learning is fun, kids are more engaged and the learning to write process becomes more effective.
Meet The Founders Of Love Writing Co.
Two parents on a mission to make writing a blast for children and inspire them to love writing!

Love Writing Co was born when Surlender, a single mom, could not find good writing resources to help her own kids learn to write with ease and comfort. Mark, who knows firsthand the struggle of dyslexia and the challenges it brings to writing decided together to make a difference.

With the help of education experts we decided to change the game and create a range of innovative pencils and handwriting books that turn writing into a fun adventure.

Join us on this fantastic journey where we are rewriting the rules on how kids learn to write, one smile at a time by developing resources to inspire creativity, overcome challenges, and instil a lifelong love for writing.

Happy Writing,

Surlender & Mark x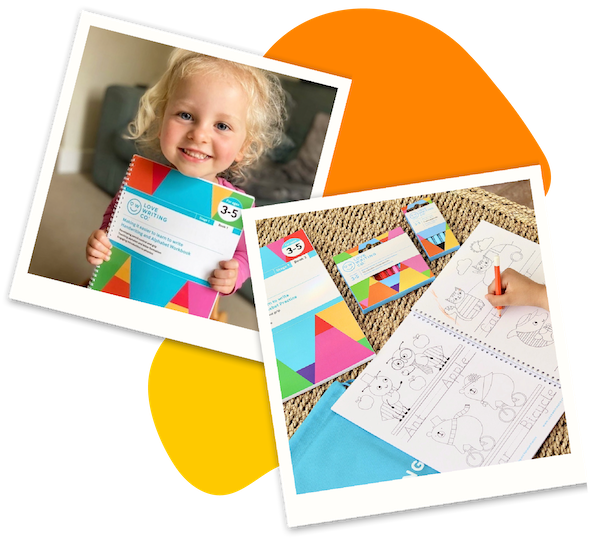 Our Mission
At Love Writing Co our mission is to turn learning to write into a playful joy-filled experience for children. We're on a mission to sprinkle fun into the process of learning essential writing skills and inspire a love of writing and reading.

Through innovative and interactive writing resources we aim to make learning to write easier, quicker and fun. Our learning to write sets provide hours of fun writing practice and require minimal parental supervision so a win for parents and kids.

We firmly believe that when writing becomes a delightful game, children not only master the art of writing quickly but also develop a boundless love for the magic of storytelling. Our ultimate goal is to empower the next generation of little learners and help them learn to love writing through their learning journey.
We Use Education Expertise And Creativity!
DEVELOPMENT

We work in partnership with child behaviours specialists, teachers, and SEND therapists to make sure all of our products are developed to truly help a child on their learning journey. Approved by the British Dyslexia Association and The Good Learning Guide.

GUIDANCE

We provide newsletters, lesson support and digital download activity worksheets for free to 1000s of children, parents and teachers across the globe. Our blogs are full of fun tips and tricks to help parents support their child's writing journeys.

PURPOSE

We rigorously test every product in classrooms with parents and children to help refine and improve the resources. Our aim is to ensure they create the best learning experience plus all our resources are sustainable and ethically sourced.
Meet The Team
Our team are all passionate about writing and bring their own unique skills together to help make Love Writing Co. the best early learning developmental resources brand.
Alisha - Social Media Queen

Eden - Chief of happiness